FRAMELESS SHOWER DOORS WILL GIVE YOU A MORE OPEN FEELING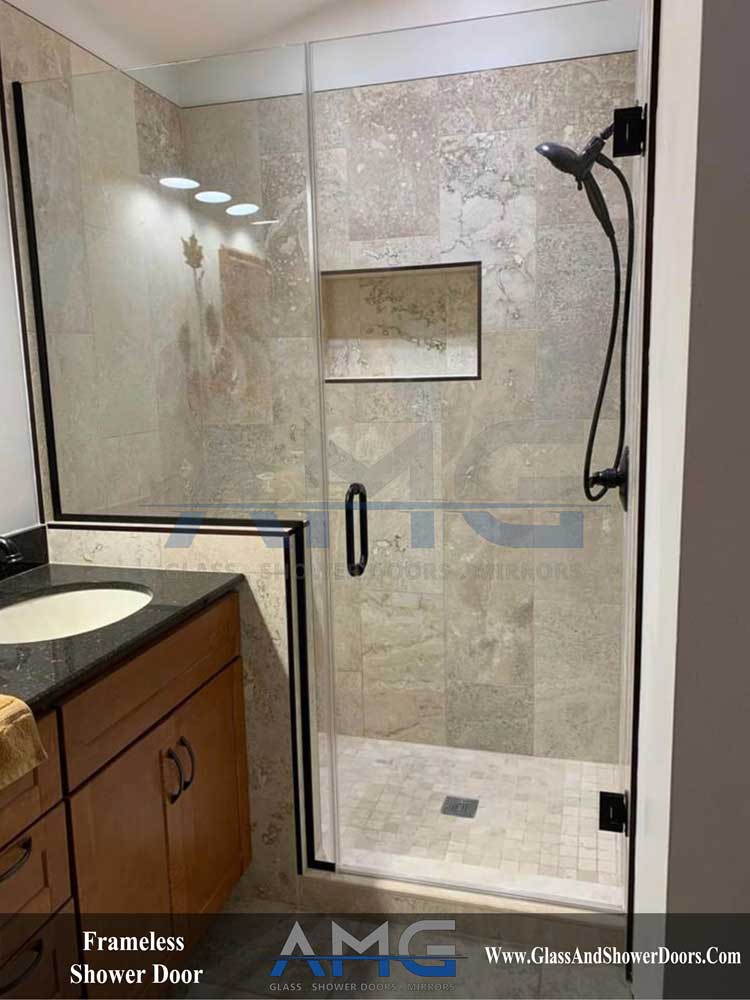 Are you trying to find a way to give your bathroom a more open and contemporary feel? Shower doors without frames are a great option! These modern-looking doors are streamlined and fashionable while optimizing light and space. In addition to being useful, they may increase the value of your house. But how can you pick the best one when there are so many options? In this blog article, we'll look at the many frameless shower door designs and offer advice on how to pick the best one for your bathroom. Prepare to appreciate frameless shower doors' more airy atmosphere!

FRAMELESS SHOWER DOORS make the most of available space and light.
The best way to optimize the amount of light and space in your bathroom is with frameless shower doors. Frameless shower doors don't have the hefty metal frames that come with conventionally framed shower doors, which may take up valuable space and obstruct natural light. Since every inch matters in smaller restrooms, they are ideal.

In addition to their slick appearance, frameless shower doors have other advantages. Since there are no metal frames or rails to accumulate dirt and grime, they are simpler to clean. Additionally, because they don't retain moisture the way framed doors can, they aid in preventing the growth of mold and mildew in your bathroom.

The potential of frameless shower doors to improve the natural lighting in your bathroom, however, may be their greatest benefit. These doors may increase the amount of light that enters a space, making even a tiny bathroom appear spacious and bright.

Frameless shower doors are definitely something to think about if you want to give your bathroom a more spacious sense while also adding some modern flare.

WHICH FRAMELESS SHOWER DOOR TO SELECT
The process of selecting the ideal frameless shower door doesn't have to be difficult. Here are some pointers to aid in your decision-making.

Consider your bathroom's size and design first. You could want a specially built shower door if your bathroom is tiny or has a peculiar layout. Measure your area precisely, and get advice from experts who can help you through the procedure.

Next, consider your bathroom's design and select a frameless shower door that matches it. There are several potential designs, ranging from simple shapes to more elaborate ones with etched glass or metal embellishments.

Safety elements are another key factor. For increased durability and peace of mind, look for tempered glass doors that are at least 3/8 inch thick.

Don't overlook usability while selecting a frameless shower door. To provide the utmost comfort and convenience during everyday usage, take into account issues like water containment, cleaning, and maintenance simplicity.

You'll be able to experience a more open sensation in your bathroom and improve its overall design appeal by keeping these things in mind when selecting your frameless shower door.

Frameless shower doors are available in a RANGE OF STYLES
There are many different designs of frameless shower doors from which to choose. Every type has its own distinct benefits and can go well with different bathroom designs.

The sliding door design is a common choice. Smaller bathrooms are ideal for sliding doors since they don't need extra space to open or close. They also offer a sleek, contemporary appearance that may improve any bathroom decor.

The pivot door design, which opens on hinges like conventional doors, provides an additional choice. In addition to providing a beautiful and classic look, pivot doors make it simpler to enter larger bathrooms.

Curved glass shower doors are another option for those seeking something truly distinctive. These doors include glass panels with softly curved edges that offer depth and a great aesthetic effect to any bathroom decor.

Regardless of the design you pick, installing a frameless shower door will optimize natural light, give the impression that your bathroom is larger, and add a touch of luxury and modernity.

The future of modern bathrooms will have frameless shower doors.
Glass shower doors are the pinnacle of contemporary bathroom architecture. They are ideal for smaller bathrooms or people who want to make the most of their available space because of their open, streamlined style that gives the impression of space. They not only give any bathroom a sense of elegance, but they also make it possible for natural light to enter the area easily.

Shower curtains are no longer the sole choice for enclosing your shower space. It's obvious that homeowners desire a more modern design for their bathrooms, given the popularity of frameless shower doors. These doors have simple lines and do not have heavy frames or hardware that detract from their beauty.

Frameless shower doors are not only aesthetically pleasing, but they are also highly useful. Since there are no frames or seals that might collect water or mold over time, they are simple to clean and maintain. Additionally, they offer a smooth shower entrance without trip hazards like high thresholds.

With so many advantages, it is understandable why frameless shower doors have become so popular in contemporary bathroom design. They are one of the greatest enhancements you can get since they add usefulness and flair while upgrading the interior décor of any home.

CONCLUSION
In conclusion, frameless shower doors are a fashionable and useful addition to any contemporary bathroom. They let in natural light and give off an airy, expansive sensation that may make your bathroom feel much bigger than it actually is.

When selecting the ideal frameless shower door, take into account elements like size, design, glass thickness, hardware finishes, and installation possibilities. You may choose a style that matches your aesthetic tastes thanks to the variety of options offered.

As technology develops, we anticipate more cutting-edge designs in the future for even better usefulness and sleeker aesthetics. When it comes to showering, frameless shower doors are unquestionably the future.

So why not give your bathroom an update right away with a frameless shower door? Take advantage of your home's increased light and space while adding refinement!
Share This Story, Choose Your Platform!