Utilizing Glass Shower Doors to Add a Touch of Elegance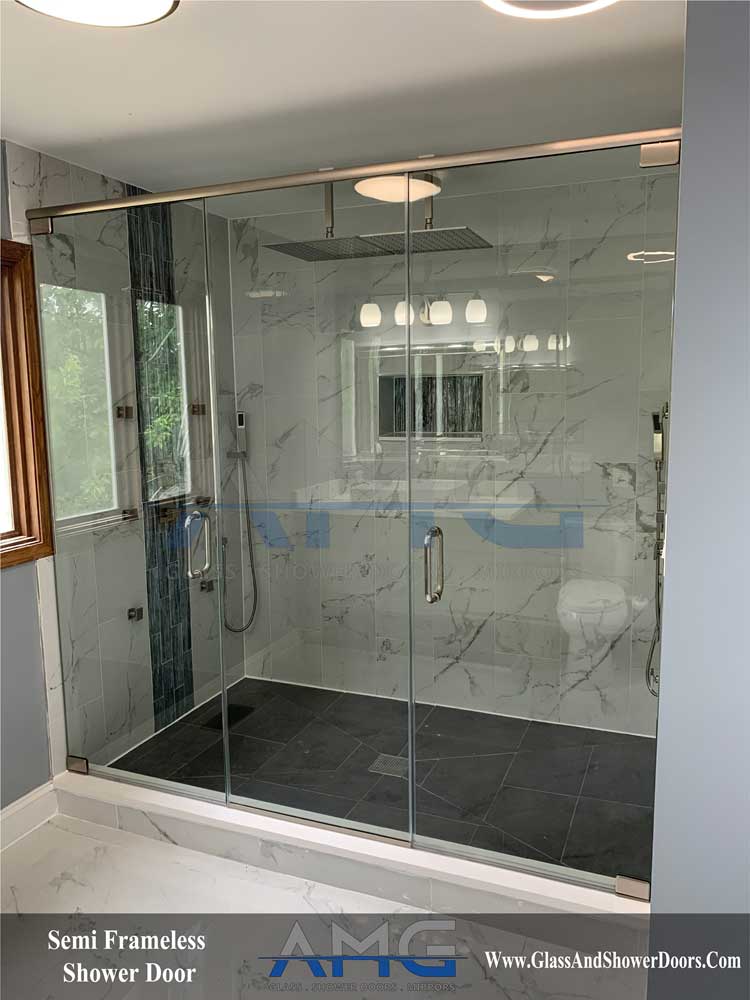 Why do shower doors have glass?
With good reason, glass shower doors have grown in popularity in recent years. The visual attractiveness of glass shower doors is one of their key advantages. Glass doors, as opposed to conventional shower curtains or opaque doors, give your bathroom decor a roomy, open sense.
Glass shower doors not only have a striking appearance but are also simple to maintain. By maintaining your glass door on a regular basis, you can say goodbye to mildewed or moldy drapes for years to come. Glass railings and walls A place may be effectively divided using mirrors while still feeling open and spacious. They let in natural light, which makes the space feel lighter and more welcoming. Additionally, they can aid in establishing a feeling of movement across various spaces, facilitating easy transitions between them.
The greater usefulness of glass shower doors is another advantage. You may benefit from features like sliding mechanisms or rotating hinges, depending on the kind of shower door you select, which make getting in and out of the shower more simple than before.
You can be confident that your investment will survive for many years without cracking or breaking easily under regular use conditions by selecting a high-quality tempered glass choice from reputable manufacturers like Kohler or DreamLine.
Consider purchasing a high-quality pair of glass shower doors if you're seeking a stylish yet useful addition to your bathroom design plan!
Many kinds of glass shower doors
There are various varieties of glass shower doors available on the market. One of the most popular types is the framed glass shower door, which gives your bathroom a modern, polished appearance. Metal frames around the edges of these doors give them strength and longevity.
Frameless glass shower doors offer unhindered views and give the impression of a larger area. Due to the fact that they are constructed from sturdy tempered glass that can survive regular use, they do not need any metal frames or supports.
Shower doors that are just partially framed at the edges offer a blend of framed and frameless designs. This layout gives the building solidity while still having a beautiful appearance.
For people who prefer simple access in confined places, sliding glass shower doors are an additional choice. When opening or closing them, the one or two sliding panels that are included in them offer a smooth gliding action.
While pivot hinged doors swing outward like conventional doors, they nonetheless have a contemporary feel because of their sleek lines and gorgeous finishes.
The best sort of glass shower door for you will depend on your personal tastes for style as well as practical factors like available space, upkeep needs, and financial limits.
Adjustable shower doors made of glass
Glass shower doors may be made to order to match your individual tastes and bathroom design. A variety of design options, including various glass kinds, hardware finishes, and framing designs, are available with custom glass shower doors.
Etched or frosted glass is a common option for glass shower doors that may be customized. This kind of glass gives seclusion while still allowing light to enter, giving your bathroom a sophisticated and attractive appearance.
Selecting from a range of hardware finishes, such as brushed nickel or oil-rubbed bronze, is another way to make something uniquely yours. The additional complexity of these treatments enhances the streamlined appearance of the transparent or frosted glass panels.
Options for the framing style include frameless, semi-frameless, and framed designs. Semi-frameless designs feature partial frames along the borders, whereas framed designs have metal frames around each panel. Frameless variants offer a clean, minimalist appearance.
Glass shower doors with customization options let you design a unique finish that fits the aesthetic of your ideal bathroom. Consult experts at businesses that specialize in creating customized versions of these goods so they can help you achieve the ideal balance of style for your room.
Glass shower door suppliers
There are various possibilities when it comes to purchasing glass shower doors. They may be purchased online, in specialty bathroom stores, or at home improvement stores.
Glass shower doors come in a variety of sizes and shapes and are available at home improvement retailers like Home Depot and Lowe's. Additionally, they offer skilled employees that can assist you in making the best decision for your bathroom.
Glass shower doors are available in a broader variety from specialty bathroom retailers. They frequently provide more customization choices and more unusual designs. These shops could have higher prices than comparable home improvement shops, though.
Online shopping for glass shower doors is an additional choice. This enables you to shop from a wider selection of goods made by various producers while at home. Prior to making any purchases, make sure to read reviews and look through the return policy.
Depending on your budget and the style of design you choose, you can buy a glass shower door anywhere. To get the best product for your needs, you must conduct a thorough study in advance.
Installing glass shower doors: a how-to
Although installing glass shower doors may appear difficult, it is simple to do with the correct equipment and guidance. To make sure the right size door is bought, start by taking precise measurements of your shower entrance. After receiving your glass shower door kit, carefully read the installation documentation before starting.
Ensure that you have all of the equipment you'll need, including a drill, level, silicone sealant, and screws. It's crucial to carefully follow each step during installation to prevent any errors that might lead to damage or leaks down the road.
Start by adhering any kit-supplied hardware onto the glass panels in accordance with the guidelines. Make sure everything is level before using screws to attach them to the wall.
For further waterproofing protection, silicone sealant should be used all the way around the installed glass panels' edges where they touch other surfaces like walls or floors. Installing new glass shower doors can give any bathroom renovation project an exquisite touch with a little time and care.
Conclusion
In conclusion, glass shower doors may enhance the beauty and decor of your bathroom. You have the opportunity to select a glass shower door from the many styles that are now on the market based on your preferences and tastes. You may choose from alternatives with or without frames, clear or frosted glass, and you can never go wrong.
Additionally, custom choices let you add a personal touch that will give your bathroom a distinctive appearance. But it's vital to remember that for usefulness and longevity, professional installation is required.
Make sure to take into consideration variables like quality, cost-effectiveness, and customer service, among others, when deciding where to get your glass shower door or Visit Glass and Shower Doors for your free quote.
Share This Story, Choose Your Platform!