FRAMELESS SHOWER DOORS WILL PROVIDE YOU A MORE OPEN FEELING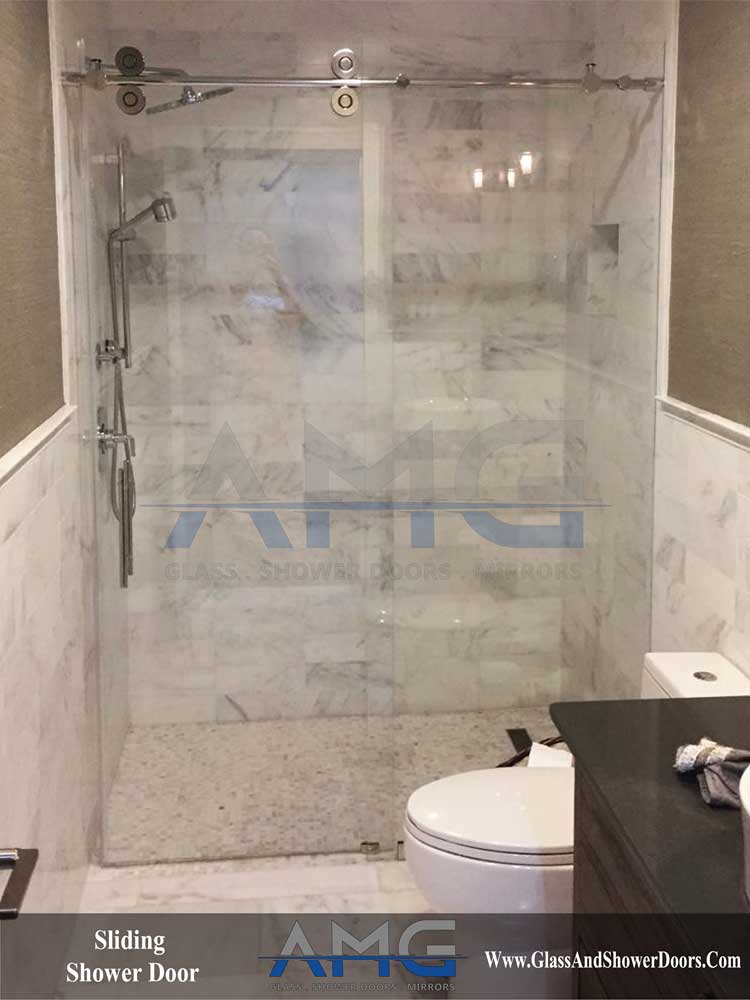 Considering frameless shower doors? These streamlined and fashionable doors provide a modern appearance while optimizing both light and space. They may increase the value of your house in addition to being useful. However, how can you choose the best alternative when there are so many to choose from? We'll look at the many frameless shower door designs in this blog article and provide advice on how to choose the best one for your bathroom. Prepare to savor a more airy sensation with frameless shower doors!

Frameless Shower Doors: Implementing Light and Space
To make the most of the light and space in your bathroom, consider installing frameless shower doors. Contrary to conventionally framed shower doors, frameless shower doors lack hefty metal frames that might take up valuable space or obstruct the passage of natural light. Because of this, they are ideal for tiny bathrooms where every square inch matters.

Frameless shower doors provide more advantages than just a sleek appearance. Due to the absence of metal frames or tracks that may accumulate dirt and grime, they are simpler to clean. Additionally, they aid in preventing the growth of mold and mildew in your bathroom since they don't collect moisture as framed doors can.
But the potential to improve the natural illumination in your bathroom is possibly the largest benefit of frameless shower doors. These doors can make any bathroom seem spacious and bright since they let more light in.



Frameless shower doors are certainly something to take into consideration if you're searching for a method to give your bathroom a more spacious sense while also adding some contemporary flare.


Choosing the ideal frameless shower door
It might be difficult, but it doesn't have to be, to choose the best frameless shower door. Here are some pointers to assist you in making a wise choice:

Take into account your bathroom's size and design first. A bespoke shower door can be necessary if your bathroom is tiny or has a strange layout. Consult with experts who can help you along the way after thoroughly measuring your area.

After that, consider the design of your bathroom and choose a frameless shower door that matches it. From simple designs to more elaborate alternatives with etched glass or metal embellishments, there are many different types to choose from.

Safety elements are still another crucial factor. For increased durability and peace of mind, search for doors with tempered glass that is at least 3/8 inch thick.

When selecting a frameless shower door, keep utility in mind. For optimal comfort and convenience during everyday usage, take into account elements like water containment, simplicity of cleaning and maintenance, and maintenance-free design.

By considering these elements when selecting a frameless shower door, you'll be able to experience a more open feeling in your bathroom while also boosting its overall design aesthetic.

A VARIETY OF FRAMELESS SHOWER DOORS
There are several design options available when it comes to frameless shower doors. Every type has its own distinct characteristics and works well with a variety of bathroom designs.

The sliding door design is a well-liked alternative. Because they don't need any more space to open or close, sliding doors are ideal for compact bathrooms. Additionally, they provide a sleek, contemporary aesthetic that may improve any bathroom decor.

The pivot door type is an additional choice; it swings open on hinges much like conventional doors. Larger bathrooms may be more easily accessed thanks to pivot doors' attractive and classic design.

There is also the curved glass shower door type for those seeking something really distinctive. These doors include glass panes that are subtly curved, which produces a wonderful aesthetic impact and adds depth to any bathroom decor.

No matter what design you decide on, installing a frameless shower door will optimize natural light and give your bathroom a more airy atmosphere while adding an opulent and contemporary touch.

SHOWER DOORS WITHOUT FRAME: THE FUTURE OF MODERN BATHROOMS
The pinnacle of contemporary bathroom design is glass shower doors. They are ideal for smaller bathrooms or those trying to optimize space because of their streamlined and sleek design, which gives the impression of being open and roomy. They not only give any bathroom a sense of class, but they also let natural light into the area freely.


The days of using only shower curtains to enclose your shower space are long gone. It's obvious that homeowners desire a more modern design for their bathrooms since frameless shower doors are becoming more popular. These doors have sleek lines and don't have any distracting hardware or large frames to take away from their elegance.

Frameless shower doors are quite useful in addition to having a beautiful appearance. Since there aren't any frames or seals that may eventually trap water or mildew, they are simple to clean and maintain. Additionally, they eliminate trip hazards like high thresholds and provide a smooth entry into your shower.

It is understandable why frameless shower doors have become such a mainstay in contemporary bathroom design when all these advantages are taken into account. One of the finest improvements you can make to your house is investing in these since they add usefulness and flair while upgrading the interior design scheme.

CONCLUSION
In conclusion, frameless shower doors bring style and functionality to any contemporary bathroom. They give off a sensation of openness and space that may make your bathroom seem much bigger than it really is, and they let natural light in.

Consider aspects like size, design, glass thickness, hardware finishes, and installation choices when selecting the ideal frameless shower door. Because there are so many different styles, you may easily pick one that matches your aesthetic tastes.

As technology develops, we anticipate even improved functionality and sleeker looks in the future thanks to more creative ideas. The future of showers is undoubtedly frameless shower doors.

Why not update your bathroom right now with a frameless shower door? Visit Glass and Shower Doors to elevate your home's style!
Share This Story, Choose Your Platform!