Using Frameless Shower Doors to Increase the Value of Your Home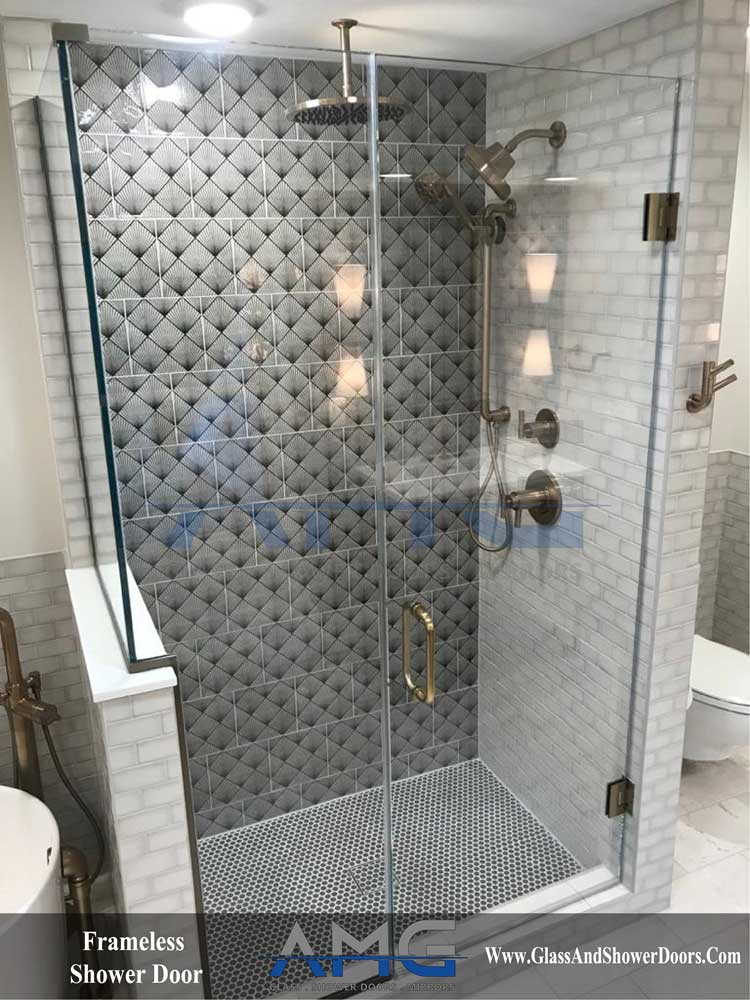 Are you trying to figure out how to make your house more beautiful and valuable? Shower doors without frames are a great option! These sleek, contemporary additions not only make your bathroom seem better, but they also provide durability and safety. Additionally, you may design a distinctive appearance that precisely suits your particular taste thanks to the customization choices offered. We'll cover everything you need to know about frameless shower doors in this blog post, including how to pick the best one for your house and how to keep it looking brand new for years to come.
Frameless shower doors: stylish, sturdy, and safe
In order to give their bathrooms a touch of beauty and contemporary style, homeowners are increasingly choosing frameless shower doors. These doors have several benefits, one of which is their sleek, polished appearance, which may add a touch of luxury to any bathroom.
But frameless shower doors provide advantages in terms of safety as well as beauty. Frameless shower doors are composed of tempered glass, which is significantly less likely to crack or shatter in the event of an accident than standard framed shower doors, which contain metal frames that can corrode over time or gather mold and mildew.
Durability is another advantage of frameless shower doors. These doors may survive for many years without needing repairs or replacements if they are properly maintained. They are therefore a wise investment for homeowners who wish to raise the value of their houses and benefit from their purchases over the long run.
In light of this, frameless shower doors are a great option for the bathroom in your house, whether you're seeking style, safety, longevity, or all three.
How to pick a frameless shower door that's ideal for your house
It might be challenging to choose the ideal frameless shower doors for your house, but it doesn't have to be. The size of your bathroom and the space available for the shower door should be your top priorities. To ensure that the shower door you choose will fit correctly, measure the opening where it will be installed.
Consider your own tastes and style next. Do you like a simplistic appearance, or do you prefer something with more elaborate patterns? Glass thickness, hardware finishes, and even engraved or frosted designs are all available as choices.
Safety is a key consideration. Since they are more durable than thinner ones, look for tempered glass doors that are at least 3/8 inch thick. If safety is a concern, you could choose doors with anti-slip coatings.
When picking a frameless shower door, keep your budget in mind. While there are expensive versions with opulent features like automated closing mechanisms or self-cleaning glass, there are also less expensive ones that nevertheless have durability and elegance.
The ideal frameless shower door must strike a balance between functionality and beauty while remaining within a certain budget.
Frameless shower doors: individual and customizable
In addition to being secure and long-lasting, frameless shower doors are also incredibly versatile and distinctive. Homeowners may select from a range of designs, sizes, and finishes to fit their bathroom décor when using a frameless design.
Using textured glass in your frameless shower door is one way to make it distinctive. While maintaining a sense of privacy, textured glass may let natural light into the shower area. Additionally, it may produce a stunning visual impact that gives the room more depth and intrigue.
Adding hardware with various finishes, such as chrome or brushed nickel, is another choice for personalization. This can harmonize with other bathroom fixtures and give the area a finished appearance.
Custom etching or graphics on the glass can be applied for by individuals looking for something utterly one-of-a-kind. This enables homeowners to display their unique sense of design on their shower door.
Because frameless shower doors come with so many customized options, it's simple for homeowners to design a unique bathroom feature that enhances the value and aesthetic appeal of their house.
Guidelines for caring for frameless shower doors
Maintaining the cleanliness and operation of your glass shower doors is crucial for retaining their aesthetic appeal. Here are some recommendations for upkeep to keep in mind:
First, be sure to use a soft cloth or squeegee to clean the glass after each use. This will stop stains like soap scum, water marks, and other stains from amassing on the glass surface.
Second, stay away from using abrasive instruments or cleansers that could harm the glass. Use a non-abrasive cleaner made especially for glass surfaces instead.
Thirdly, pay attention to the shower door's hardware, including the hinges and handles. To prevent rusting or corrosion, they should be cleaned often with mild soap and water.
Have a professional look at your shower doors at least once a year to make sure all of the parts are in good working order and showing no indications of wear or damage.
You can increase the longevity of your frameless shower doors and keep them looking brand new for many years by using these easy maintenance suggestions!
Conclusion
Frameless shower doors are not only a useful and aesthetically pleasing addition to any bathroom, but they may also increase the value of your house. They provide a variety of advantages over conventionally framed shower doors, including safety features, durability, and customization choices.
Consider the size and design of your bathroom as well as your budget when selecting the ideal frameless shower door for your house. For the best outcomes, don't forget to spend money on high-quality hardware and installation services.
Your frameless shower door will be stylish and practical for many years to come if you adhere to good care guidelines like routine cleaning and staying away from harsh chemicals.
Enjoy the advantages of updating your bathroom with a frameless shower door right away!
Share This Story, Choose Your Platform!